Purolator has been recognized by Canada's Clean50 as a leader for our contribution to environmental sustainability over the past two years. This recognition includes a 2024 Canada's Clean50 Award for GHG Reduction and a Canada's Clean16 Award, presented to Cindy Bailey, Purolator's Corporate Sustainability Officer. 
"Canada's Clean50 Awards are announced annually by Delta Management Group and the Clean50 organization to recognize those 50 individuals or small teams, from 16 different categories, who have done the most to advance the cause of sustainability and clean capitalism in Canada over the past two years," said Gavin Pitchford, CEO, Delta Management Group.
The Canada's Clean50 Award for GHG Reduction recognizes organizations like Purolator that have done the most to reduce greenhouse gas emissions (GHG) in recent years. 
Cindy Bailey, Corporate Sustainability Officer, Purolator, earned the Canada's Clean50 Award for her work with stakeholders across our business and industry to make progress towards Purolator's goals to reduce scope 1 and 2 emissions by 42 per cent by 2030, electrify 60 per cent of its last-mile delivery vehicles, use 100 per cent renewable electricity in operations, and divert over 70 per cent of non-hazardous waste from landfill. As the top winner in the Manufacturing and Transportation category, Cindy was honoured with a Canada's Clean16 Award.
"The cumulative accomplishments of Canada's Clean16 over the past two years adds up to a very big number of tons of GHGs avoided," added Pitchford. "All Canadians should be grateful for the leadership these individuals have shown – and for the support that their organizations have provided."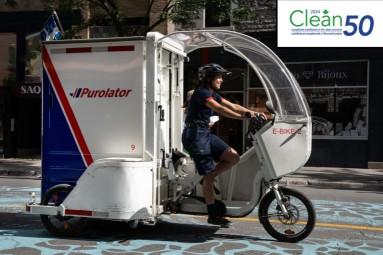 "We take our responsibility to protect the environment very seriously and we have set ambitious goals to do our part and become Canada's greenest courier. The Canada's Clean50 Awards recognize the dedication of our team's efforts to make this happen," said John Ferguson, President and CEO, Purolator. "Congratulations to Cindy, our leadership team and all our employees across the country for driving our sustainability programs to help us achieve our objectives. We are not slowing down and are well on our way to reach our ultimate goal of net-zero emissions by 2050."
Last year, Purolator reduced our scope 2 emissions by 43 per cent, compared to our 2020 baseline, and earlier this year, we announced plans to invest $1 billion to electrify our Canadian network by 2030. These are just two examples of the important steps we are taking to create a sustainable future and healthier planet.
"These awards reflect the commitment of the entire Purolator organization – from our leaders, employees and partners – to do what's right for our environment," said Cindy Bailey, Corporate Sustainability Officer, Purolator. "I am so proud to be part a company where I can help lead a strategy that prioritizes environmental sustainability across the organization and where everyone works together to deliver results." 
For more information on Purolator's commitment to the environment, read our latest Corporate Sustainability Report at purolator.com/environment. 
For more information on the Canada's Clean50 Awards, visit clean50.com.