Deliver a better tomorrow for a neighbour in need.
Most Canadians are fortunate to enjoy an exceptional quality of life. However, did you know that in 2019 food banks saw an average of 1.1 million visits per month? One third of these people are children. Right here in Canada.
In 2003, Purolator employees decided to take action by creating Purolator Tackle Hunger – an initiative that's all about people helping people. Since then, this employee-lead grassroots initiative has helped deliver more than 13 million pounds of food to families across the country.
But there are more Canadians to feed and more meals to deliver.
We can't tackle hunger alone. We invite you to join us in the Purolator Tackle Hunger program. After all, even one family struggling to put food on the table is one family too many.
What does hunger look like in Canada?
The number of Canadians who rely on their local food banks is staggering. We're actively working to change it, by delivering food and resources with the help of our Purolator Tackle Hunger partners, and Canadians like you.
1.1 M
visit to food banks
in March 2018*
* Source: Food Banks Canada 2019.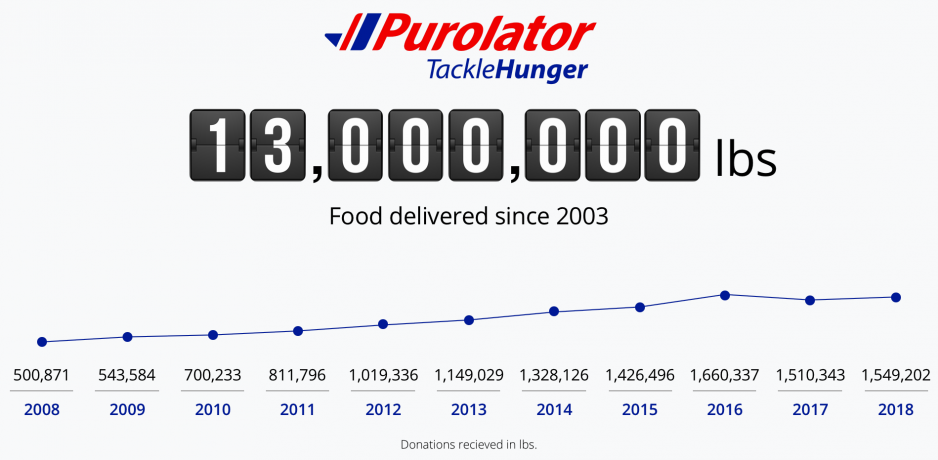 It's more than help - it's delivering hope.
Our food bank partnerships
Image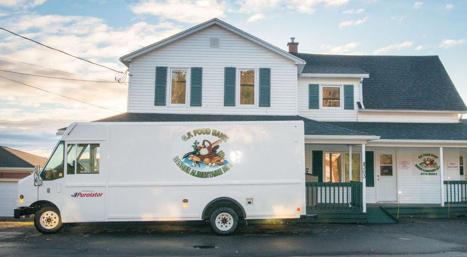 Truck Donations
Purolator isn't just Delivering Good from inside the truck, we're handing over the keys!
To-date we have donated 20 refurbished curbside delivery vehicles to food banks and food organizations across Canada.
Image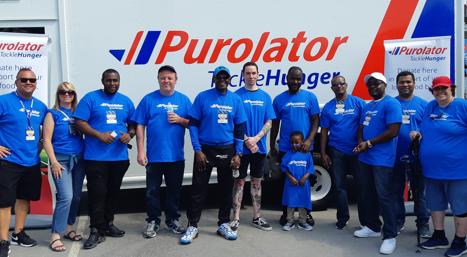 Purolator Volunteers
Purolator employees created the Tackle Hunger program, and they are the main drivers in keeping it a strong community initiative today.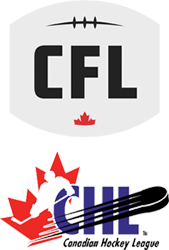 Purolator Tackle Hunger Game Days
Since 2003, we've focused our efforts on what we believe to be one of the most pressing issues affecting Canadian communities nationwide: hunger. We are committed to tackling hunger in Canada and making a difference in the communities where we live, work and play.
Our sponsorship of the CFL and the CHL provides Canadians the perfect opportunity to come together and support one another – on the field or on the ice!
Cheer for your favourite CFL or CHL team while delivering good to Canadians in need. Everyone who donates food or funds on Purolator Tackle Hunger Game Day will have the chance to win prizes while helping make Canada stronger.
Purolator Tackle Hunger team totals

June is Purolator Tackle Hunger Month!
Purolator Tackle Hunger week has grown… we are now tackling hunger all month long!
Since 2003 more than 10,000 Purolator employees, customers, and partners have joined Canadians from coast to coast to raise awareness about hunger in Canada, and to collect food and funds for food banks.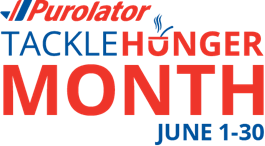 In 2019 Purolator Tackle Hunger Week became Purolator Tackle Hunger Month. Throughout the month of June, Purolator employees will be working with their partners and customers to raise awareness and donations to help alleviate food insecurity across the country.
All of the donations raised during Purolator Tackle Hunger Month stay in the community where they were raised to benefit the local food bank.
Donate here
Community Food Foundation of Barrie

Barrie, ON

Community Food Foundation of Barrie

Barrie, ON

Calgary Food Bank

Calgary, AB

Calgary Food Bank

Calgary, AB

Colchester Food Bank

Truro, NS

Community Food Sharing Association

St. John's, NL

Daily Bread Food Bank

Etobicoke, ON

Eden Food for Change

Mississauga, ON

Edmonton's Food Bank

Edmonton, AB

Food Depot Alimentaire

Moncton, NB

Food For Life

Burlington, ON

Gleaners Food Bank (Quinte) Inc.

Belleville, ON

Greater Vancouver Food Bank Society

Vancouver, BC

Guelph Food Bank

Guelph, ON

Inn Of The Good Shepherd

Sarnia, ON

Jeunesse au Soleil

Montreal, QC

Kamloops Food Bank

Kamloops, BC

Kawartha Food Share

Kawartha, ON

Kelowna Community Food Bank Society

Kelowna, BC

Langley Food Bank

Langley, BC

Lethbridge Food Bank

Lethbridge, AB

Loaves & Fishes Community Food Bank

Nanaimo, BC

London and Area Food Bank

London, ON

Manna Food Bank of Bracebridge Inc.

Bracebridge, ON

Medicine Hat Food Bank & Services

Medicine Hat, AB

Mississauga Food Bank

Mississauga, ON

Moisson Beauce

St-Joseph De Beauce, QC

Moisson Estrie

Sherbrooke, QC

Moisson Mauricie

Trois-Rivières, QC

Moisson Montreal

Montreal, QC

Moisson Québec

Quebec, QC

Moisson Saguenay-Lac-Stn

Chicoutimi, QC

Mustard Seed

Victoria, BC

NDG Food Depot

Montreal, QC

North Bay Food Bank

North Bay, ON

Partners in Mission Food Bank

Kingston, ON

Project S.H.A.R.E.

Niagara Falls, ON

Red Deer Food Bank Society

Red Deer, AB

Regina & District Food Bank Inc.

Regina, SK

RFDA Center

Thunder Bay, ON

Richmond Food Bank Society

Richmond, BC

Salvation Army Community & Family Services

Prince George, BC

Salvation Army the Family Services

Grande Prairie, AB

Samaritan House Ministries Inc.

Brandon, MB

Saskatoon Food Bank & Learning Centre

Saskatoon, SK

SOS Dépannage

Granby, QC

St Vincent de Paul

London, ON

Sudbury Food Bank

Sudbury, ON

Surrey Food Bank

Surrey, BC

Upper Room Food Bank

Charlottetown, PE

Vaughan Food Bank

Woodbridge, ON

Winnipeg Food Bank

Winnipeg, MB

Wood Buffalo Food Bank

Ft Mcmurray, AB

Yarmouth Food Bank

Yarmouth, NS

 
 
Previous
Next
Image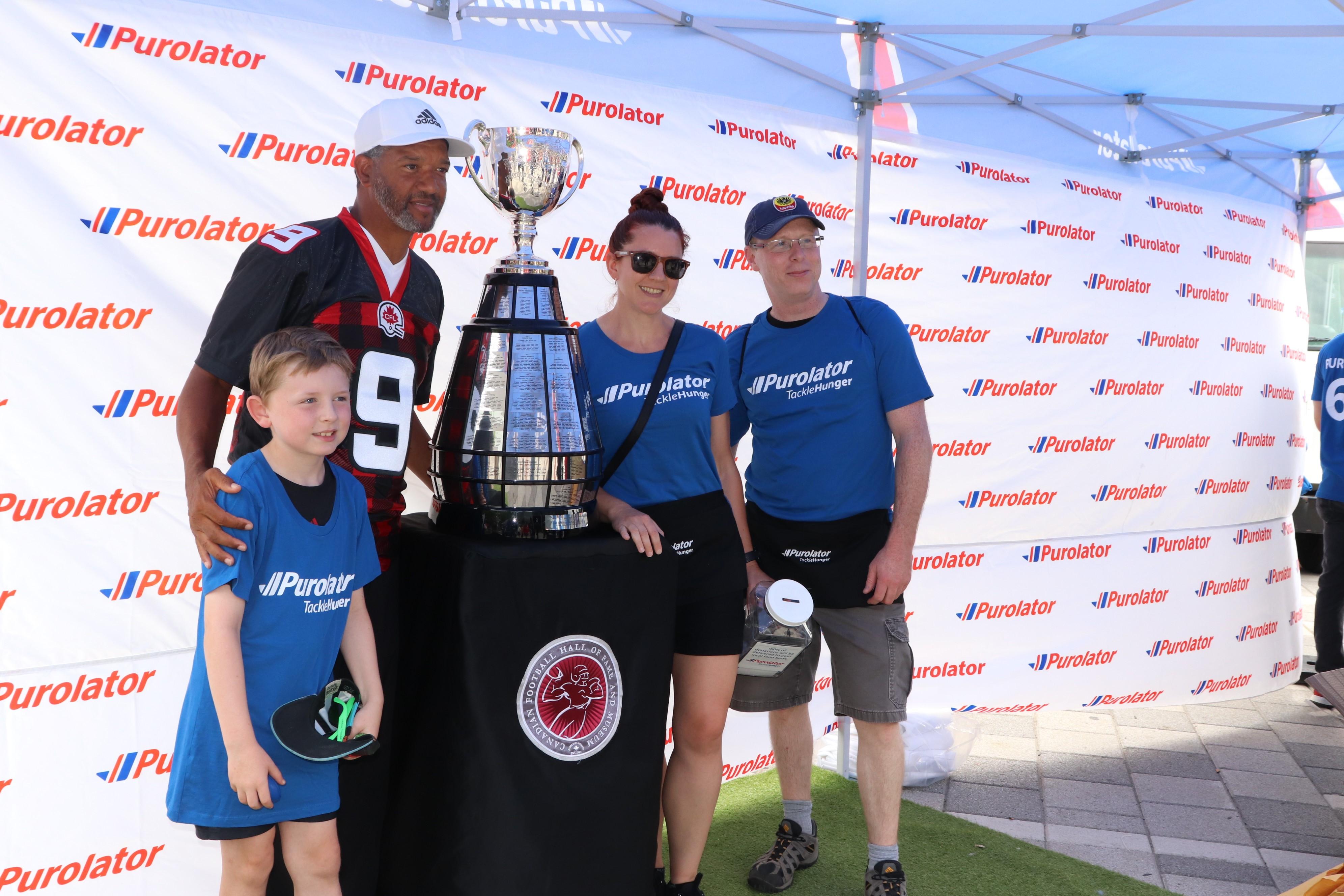 Damon Allen surprises RedBlacks fans
The Grey Cup wasn't the only thing grabbing fans attention at the Purolator Tackle Hunger Game Day Food Drive, we also had four time Grey Cup Champion Damon Allen at our tent. He posed with excited fans prior to the Ottawa RedBlacks game on July 13th. Purolator and foodbank volunteers collected over 23,802 lbs of non-perishable food for the Ottawa Foodbank.
Image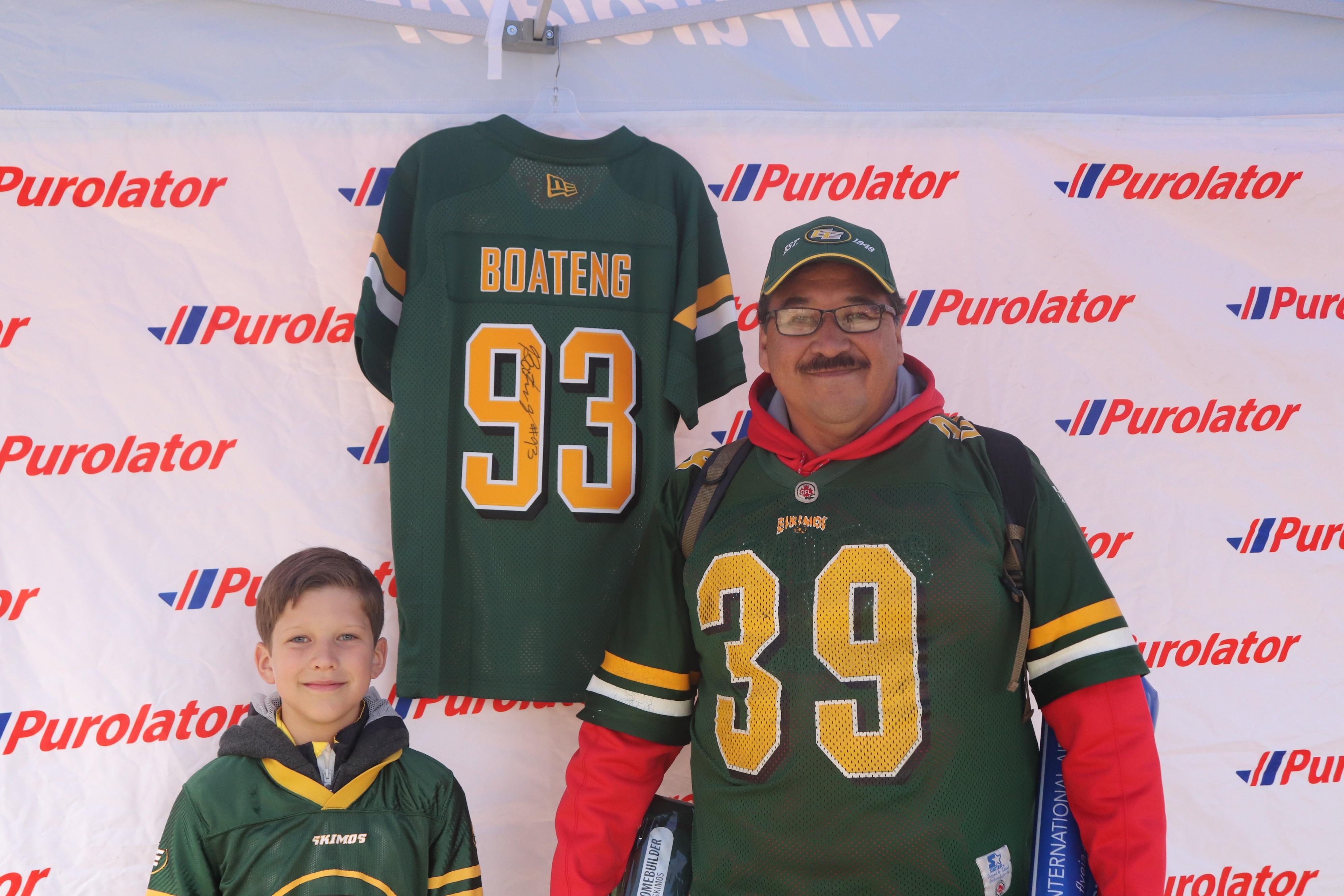 Cooler weather can't keep Eskimo fans away
Despite chilly temperatures, Edmonton fans came out to support their Eskimos and Purolator Tackle Hunger on August 9th. Purolator volunteers collected 66,000 pounds of food for Edmonton's Foodbank. One lucky fan went home with an autographed Kwaku Boateng jersey.
Image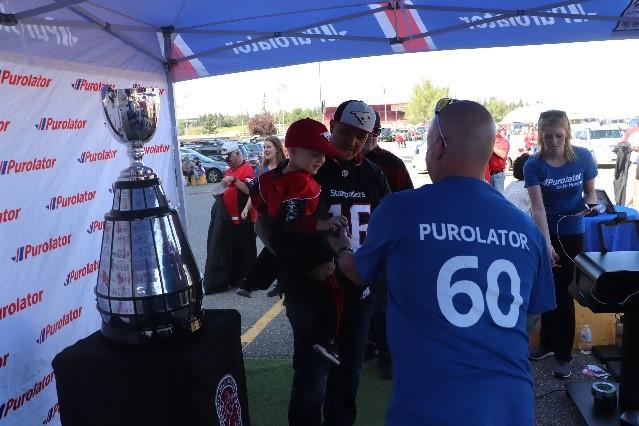 Stampeders fans photobombed by the Grey Cup
A great day in Calgary on August 17th! Fans were very generous in their support for Purolator Tackle Hunger. Over 366 fans took photos with the Grey Cup and the Calgary Stampeders cheer team on August 17th at the Purolator booth. In return - we collected over 40,537lbs of food for the Calgary Foodbank.
Image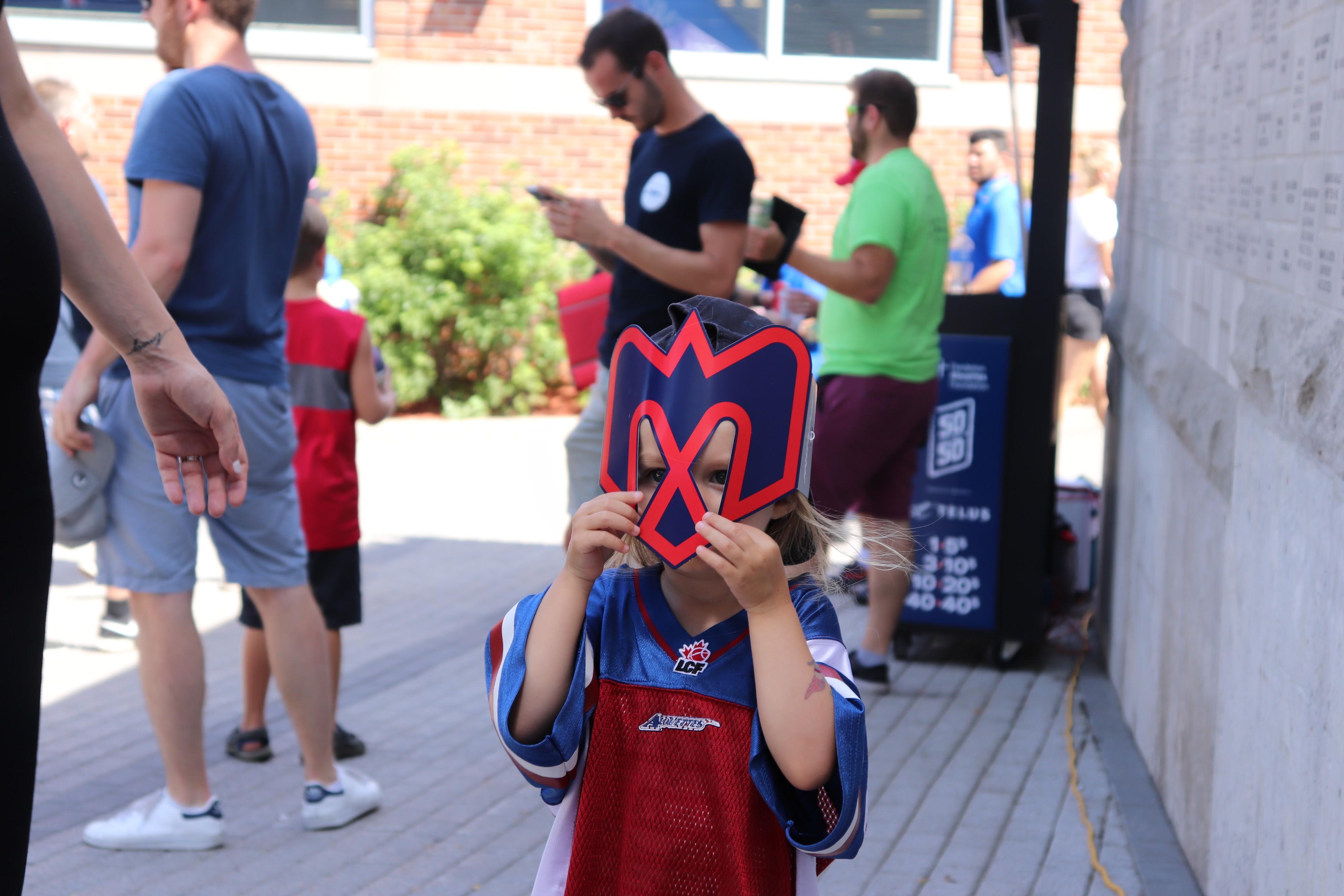 Alouettes have super fans on Game Day
Alouettes fans brought the heat and donations to their game on July 20th! Als fans helped Purolator volunteers collected 12, 875 lbs of food for local food bank - Moisson Montreal. They also got to hang out with some superheroes and wear their very own superhero mask provided by Purolator.