Corporate Social Responsibility
We're committed to reducing our environmental footprint, supporting health and safety, championing diversity, and engaging with the community.
Learn more about our corporate social responsibility (CSR) initiatives in our CSR report.
Image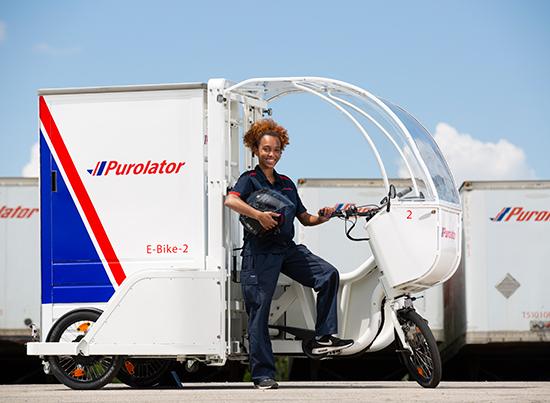 We are committed to supporting environmental sustainability by reducing greenhouse gases with our cutting edge fleet of vehicles.
Hybrid Fleet (HEVs)

With over 323 hybrid-electric vehicles (HEVs) in Canada, we continue to replace and retire older fleets with fuel-efficient vehicles. Since 2005, we're proud that our HEV fleet has logged over 48.8 million kilometres, prevented 1,625 tonnes of greenhouse gas (GHG) emissions, and saved 688,459 litres of fuel.
Electric Fleet
Electric vehicles are a major part of our environmental commitment. In 2014, we partnered with Unicell Limited to introduce the Quicksider prototype, the first fully electric delivery truck in the courier industry.
We also installed charging stations at our head office and Montreal hub, and a cross-country rollout is planned.
Most recently, in 2018 we partnered with Cummins Inc. to develop a powertrain that could replace combustion engines and reduce GHG emissions. The prototype electric vehicle has logged about 5,304 km in field testing and another 6,000 km during development testing. We look forward to 2020 when we will roll these fully electric vehicles to complement our fleet.
Gas-Powered Fleet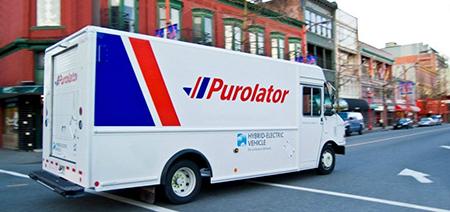 While we still operate some gas-powered vehicles, we actively investigate innovative solutions to improve efficiency. For example, drivers are training in, and are rewarded for, eco-driving practices such as no idling and progressive shifting.
The vehicles themselves have also gotten key upgrades to boost efficiency. Eco mud flaps are mandatory on new heavy equipment and new class 8 tractors have automated manual transmissions. Plus, GPS vehicle tracking was installed on 4,371 trucks to track efficiency.
Even our ground network got an upgrade. By redesigning our ground network in eastern and western Canada, we have eliminated 10,600 tonnes of GHGs annually.
We want to limit the amount of packaging that ends up in landfills. That's why we've developed environmentally friendly packaging options for our customers.
The Purolator Express® Envelope is FSC-certified, made from 50 per cent recycled fibres, including 35 per cent post-consumer fibres, and recyclable in virtually all recycling program. The Purolator Express® Box is made from 75 post-consumer fibres and fully recyclable. The Purolator Express® Pack is now a reduced size to decrease plastic usage by over 195,000 kg per year.

All our other cardboard and boxboard packaging is made from up to 95 per cent recycled fibres, and 80 per cent post-consumer content. Additionally, 80 per cent of our mailing envelopes and other paper products are FSC-certified and contain at least 60 per cent recycled content.
The domestic bills of lading also got an environmentally friendly facelift. We've prevented 22 tonnes of GHG emissions annually since we switched to carbonless paper in 2009.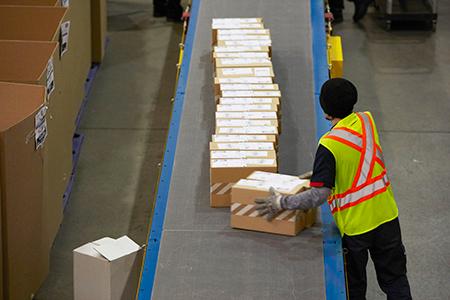 Purolator has a network of over 200 buildings, so it's important that we make our environmental initiatives a priority.
We retrofitted lighting systems in 60 facilities, reducing energy consumption by 22 per cent, and eliminating 1,300 tonnes of GHG emissions and 7 million kWh of electricity usage annually. In fact, the Ontario Hub alone saves about 155 tonnes of GHG emissions per year.
We're also trying out new technologies. By piloting a destratification fan at a major facility, we reduced natural gas consumption by 10 per cent in one year. Also, energy-saving, passive solar heating technologies are being evaluated as retrofit projects at five facilities.
Since 2007, we have conducted an annual GHG inventory. The inventory deepens our understanding of sources of emissions, and ultimately works to reduce them.
It was developed based on the globally-recognized GHG protocol Corporate Standard supported by the World Resources Institute and the World Business Council for Sustainable Development (WRI/WBSCD). Our inventory is conducted in accordance with the ISO 14064-1: Specification with guidance at the organization level for quantification and reporting of greenhouse gas emissions and removals. Our carbon footprint reporting is composed of Scope 1 (fleet fuel and facility heating), Scope 2 (facility electricity), and Scope 3 (contractor fuel and waste).
Customers can also learn about their shipments with a carbon footprint report that quantifies emissions related to their specific packages. The Purolator Emissions Estimation Array Tool estimates GHG emissions for an array of shipments based on the pick-up and drop-off location, mode of transport, and weight of each shipment. This tool helps customers better understand their carbon footprint and identify ways to minimize emissions.