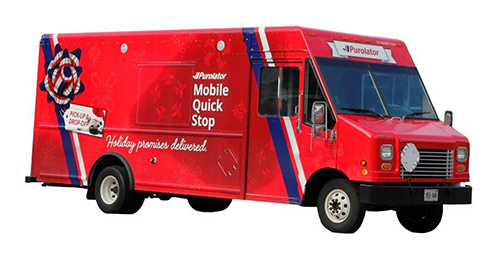 TORONTO, Nov. 12, 2018 – Today, Purolator introduced a new Mobile Quick Stop service – the first of its kind in Canada – to provide consumers, online retailers and businesses exceptional convenience and customer service when delivering to and picking up packages in city centres this holiday season. Ten Mobile Quick Stop trucks have taken up residence in four of Canada's busiest cities to serve as convenient package pickup spots for shipments that aren't left on doorsteps. The Mobile Quick Stops are located close to residents' homes and places of work and are open evenings, when consumers are more likely to have the time to pick up packages.
"Purolator picks up and delivers more than 20 million packages across Canada during the holidays," said John Ferguson, President and CEO, Purolator. "Our Mobile Quick Stops save valuable time for consumers who are picking up packages during the busiest shopping season of the year. They also unlock new potential for online retailers and businesses, helping them get their products to city centres quickly and efficiently."
Located in four regions – the Greater Toronto Area, Ottawa, Montreal and Metro Vancouver – Mobile Quick Stops act as community-based access points. Consumers in these areas who receive a "doorknocker" alerting them to a delivery attempt at their home can pick up their package at the Mobile Quick Stop that's closest to them instead of travelling to traditional shipping facilities that are farther away.
The Mobile Quick Stop truck concept was piloted in Toronto's Liberty Village and Scarborough Junction neighbourhoods earlier this year. To determine locations for the 10 trucks rolling out this month, Purolator reviewed shipment volume and traffic to its retails stores against cities' population densities, and identified the busiest locations by postal code. The company plans to expand the service to more Canadian neighbourhoods in 2019 as part of its commitment to innovating in last-mile delivery and giving businesses and consumers superior customer experience and convenience.
About Purolator
Purolator Inc. is a leading integrated freight, package and logistics solutions provider in Canada. Celebrating over 55 years of delivering its customers' promises, Purolator continues to expand its reach and renowned service levels and reliability to more people, more businesses and more places across the country and around the world. Purolator is proud of its Canadian heritage and is focused on sustainably positioning itself for future growth and success. Purolator is also committed to contributing to the well-being of the communities it serves and where more than 10,000 of its employees live, work and play. For more information, visit purolator.com.
Join the conversation:
Website: purolator.com
Facebook: facebook.com/PurolatorInc
Twitter: @PurolatorInc
Instagram: @PurolatorInc
Media Contact
Courtney Reistetter
Manager, Corporate Communications
Purolator
905 712-1084 ext. 23851
[email protected]