In celebration of Black History Month, we are recognizing Black employees who deliver for our workplaces and our communities. From volunteering with Purolator Tackle Hunger®, to supporting newcomers to Canada, to starting a support group for parents, our team members across the country are doing incredible work inside and outside the workplace. Check back throughout the month for more employee features. 
Olayinka Anomo: Delivering guidance for newcomers to Canada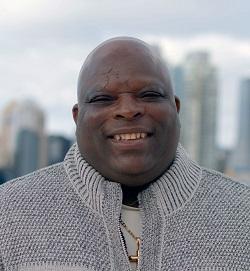 Olayinka Anomo is a sorter at one of our terminals in Calgary, Alta. He's worked at Purolator for 22 years with various responsibilities, including sorting parcels, scanning shipments and operating a forklift to load and unload freight according to his terminal's arrival and departure times.
"He has been with Purolator for a long time and has made many good friends here," said Jenny Ma, a Unit Manager at Olayinka's terminal.
Jerrad Orser, Olayinka's manager, said he is positive, trustworthy and can always be counted on to get the job done right. "He is an indispensable part of our team and we are proud to work with him."
Delivering support for immigrants
In his spare time, Olayinka uses his helping nature to support his community. He volunteers with the Nigerian Canadian Association of Calgary, which promotes Nigerian culture and heritage and encourages a positive environment for members to get together for social and multicultural interactions.
As an immigrant to Canada, he turned to the organization for assistance in a finding a job when he first arrived from Nigeria. Now, he is supporting newcomers as they navigate different community systems.
"It feels good to give back," said Olayinka. "The beginning can be a struggle, so it's nice to be given some direction. If someone wants to rent an apartment, we help them figure out how to do that. We help them look for jobs and if they need some training, we direct them to the right schools."
Also, Olayinka enjoys the annual event the organization hosts on Oct. 1 to celebrate Nigerian Independence Day.
"It's a time to remember and celebrate where we came from originally," he said.
Delivering information and knowledge
On top of his volunteer work, Olayinka is also a professional writer. In Nigeria, he wrote for the Nigerian Tribune and now he writes for NigeriaWorld. He pens articles about anything from politics to current events to sports – a big passion of his.
"I'm a trained journalist and so I enjoy digging into the truth on issues," said Olayinka. "I can use my voice through writing to help raise awareness on things that are important to people."
Lyne Norgaisse: Delivering networks and connections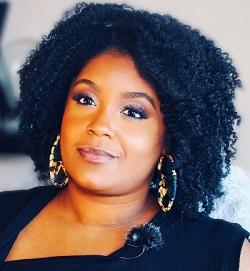 Lyne Norgaisse is a Business Partner in Talent Acquisition, based in Montreal, Quebec. A self-described "people person," Lyne loves working with her team to find the best people to join Purolator.
"What I enjoy the most is connecting with managers to really understand their unique needs for different roles so we can build a strong network within the company," said Lyne.
Jen Knight, National Manager, Talent Acquisition, shared that Lyne is always determined to find the perfect candidate for Purolator. "She is not afraid to try new things and engages with the rest of the team – encouraging us all to think outside the box," said Jen.
Delivering for families in need
Lyne is the mother of Lyam, her 11-year-old-son who was born prematurely at 26 weeks. He has developmental delays, though her family has never been given a precise diagnosis.
When it came time to start first grade, it was challenging without having a diagnosis from a doctor because the school didn't know if Lyam needed to be in a school for persons with disabilities or not. Not having answers or knowing where to turn put a lot of pressure on Lyne, which took a toll on her mental health.
That's why, in 2018, Lyne created Oasis Parents, an online network devoted to connecting parents in similar situations. Her mission is to build a community that can help each other to raise the next generation.
"If a parent is struggling, I can connect them with support systems in their area," she said. "I want parents to be able to share their struggles, their pain and also their stories of growth and success."
Lyne's hope is that other parents will realize that parenting is not something you have to do alone.
Delivering beauty and confidence
In her spare time, Lyne is also a makeup artist. She helps her friends and family look and feel their best. "I love seeing the smile on someone's face when I've finished applying their makeup," said Lyne.
It also gives her yet another opportunity to connect with people. Her passion for people and different cultures has led her to learn five languages. She can speak English, French, Créole, Spanish and Portuguese. "Through makeup, I've been able to better understand other people's points of view."
Learning and sharing about culture is particularly important to Lyne during Black History Month. Originally from Haiti, Lyne values the time to honour the legacy of Black people.
"It's the fact that we have dedicated time to focus on teaching our stories and our culture. It's a time to help people better understand us, our history and our actions," she said. "This month is for teaching and for learning."
Lex Reid: Delivering a passion for photography and volunteerism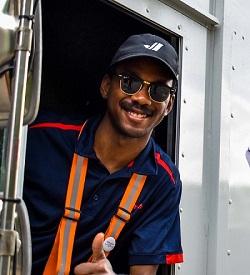 Lex Reid has been a Purolator courier for almost three years. He has always shown a strong interest in supporting his co-workers and is now a lead hand at our North York terminal. Lex's manager, Dirk Rhodes, said Lex has proven to be invaluable to the efficiency of the line. 
"Lex is very conscientious and is, thankfully, never shy in taking initiative when he recognizes something needs to be done," said Dirk. "He demonstrates ambition and is always looking to enhance and further his experience by applying for different positions within the organization. He has been a net positive contributor to our terminal and the culture we strive to promote."  
Delivering food to those in need 
Since joining Purolator, he's gone the extra mile to help those in need in his community by volunteering with Purolator Tackle Hunger. Lex supports our Red Bag campaigns by delivering bags to community members and collecting donated goods for local food banks. He also helps spread awareness of the importance of food insecurity by taking photos during the events. 
Lex has long carried the spirit of volunteerism. Giving back to the community has been an important part of Lex's life since middle school, when he volunteered with a non-profit organization that focuses on leadership training for young people and volunteer trips to developing communities.  
"Volunteering was something I wanted to continue through my work at Purolator," he said. "I saw posters at my terminal about Purolator Tackle Hunger, so I decided to get involved and give back."  
Delivering creativity through the lens 
In his spare time, Lex is an aspiring photographer. His love of photography came from an unlikely source – riding the bus every day while growing up in Scarborough, Ont., with his mother and grandmother.   
"I was very interested in buses, so I would use my mom's phone to take pictures," Lex said. "Eventually, I got my own camera."  
Lex's interest grew into a hobby he brings to work. As a courier, he sometimes travels new, unexpected routes, meeting interesting people along the way. "I get to see different areas of the city, different neighbourhoods and a lot of people," he said.
With a passion for cityscapes and urban photography, he captures photos showing life on the road as he delivers packages to customers each day. Lex shares his art with colleagues on our intranet, where his submissions have won countless photo competitions.
Outside of work, Lex enjoys travelling and taking his passion for photography wherever he goes. "At least once a month, my friends and I drive to visit a city in the U.S. like Boston, New York, Cleveland and Philadelphia. And in Canada, we've been to Ottawa, Quebec City, Montreal and others."
"I always look forward to seeing Lex's photos from his travels, as they are always creative and interesting," said Dirk.