During Pride Month, Purolator is honoured to shine a spotlight on the voices and experiences of some of our 2SLGBTQ+ community members and those who show their pride as 2SLGBTQ+ allies. These individuals emphasize the significance of creating inclusive workplaces and communities for all.
Delphine Daigle, Moncton, New Brunswick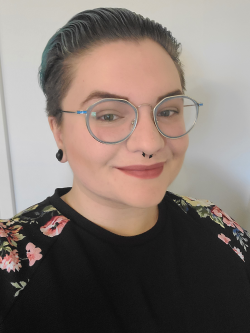 Delphine Daigle (they/them), a valued member of our Customer Care team based in Moncton, N.B., has been assisting customers and supporting Purolator for five years. Delphine excels in their role, adeptly responding to customer inquiries, tracking down shipments and addressing a wide range of concerns on a daily basis. However, their contributions extend well beyond their professional duties. As an active member of one of Purolator's DE&I Councils and a 2SLGBTQ+ ally, Delphine actively promotes inclusivity by advocating for the normalization of sharing pronouns within the workplace. Their advocacy has helped to foster an environment of trust and inclusiveness among customers and colleagues. Their commitment to both exceptional customer service and creating a supportive workplace exemplifies Purolator's core values.
Delphine believes that people communicating their pronouns is an act of allyship and support of the 2SLGBTQ+ community.
"Sharing your pronouns is not only about helping yourself be correctly addressed, but it also communicates that you're a safe person to come out to," said Delphine Daigle, Specialist, Technology Support Virtual Agent, Purolator. "It's a simple but powerful step toward fostering a more inclusive environment."
When asked about their personal experience at Purolator, Delphine highlighted the support they received from their manager, Diane. Diane has played a crucial role in creating a safe space for Delphine during their journey. Delphine shared how Diane has proactively corrected others who have misgendered them and has been a source of encouragement and understanding.
Delphine expressed their gratitude, saying, "My manager Diane has been wonderful. She has always supported me and when I came out, she was eager and open to learning about how she could continue to help me feel welcomed and accepted. While these actions may seem small, they meant a lot."
During Pride Month, we invite all employees to show their support and solidarity with the 2SLGBTQ+ community. By embracing diversity and promoting allyship, we foster an inclusive workplace where everyone feels valued, respected and empowered to be their authentic selves. Let's celebrate Pride Month together and stand united as allies, committed to making a positive difference within our workplace and beyond.
Madison Scott, Saskatoon, Saskatchewan
Madison Scott (she/her), affectionately known to colleagues and friends as "Maddie", joined Purolator two years ago as a courier in Saskatoon, Sask. Maddie ensures the prompt and friendly delivery of packages, and diligently navigates her routes, meticulously organizing and prioritizing deliveries.
When Maddie first started with the company, she had not officially come out as transgender. It was a personal journey she embarked on after joining Purolator. Nervous but determined, Maddie confided in her manager (at the time), Rick, about her identity and concerns that it might impact her job. Rick's response was overwhelmingly supportive, bringing immense relief and joy to Maddie. He assured her that being her authentic self would never hinder her professional growth or employment at Purolator. Encouraged by this positive experience, Maddie proceeded with her transition, and legally changed her name and pronouns, allowing her true identity to shine.
"Having a safe and inclusive work environment is a gift," reflects Maddie. "I'm grateful Purolator celebrates and supports the 2SLGBTQ+ community. Just about all my colleagues have supported me as allies and I was pleased to learn of other 2SLGBTQ+ employees here, who have really become part of my support system."
One particular incident showcased the power of allyship at Purolator. After coming out, Maddie faced discrimination during a shipment pickup which affected her mental well-being. She turned to her managers, who provided steadfast support.
Their understanding and empathy helped Maddie navigate the aftermath of the incident. Maddie emphasizes that without the support from her coworkers and supervisors, she may not have been able to continue working at Purolator.
This inspiring story highlights the importance of allyship and creating safe spaces within the workplace. Purolator remains dedicated to fostering an environment where all employees can bring their authentic selves to work.
As Pride Month continues, Purolator proudly stands as an ally and advocate for inclusivity. We celebrate Maddie journey and the journeys of all 2SLGBTQ+ individuals within, and outside, our organization. Their courage and resilience remind us of the power of acceptance and support.
Michael Aykroyd, Toronto, Ontario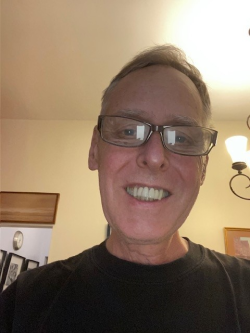 Michael Aykroyd, (he/him), has been a dedicated Purolator employee for over 25 years. But to him, Purolator is more than a place to work. Michael considers his colleagues at Purolator to be his second family.
"For me, Purolator feels like my second home. I joined because I found a safe space and a sense of belonging here," said Michael, Courier, Purolator. "Over the years, I've socialized with my colleagues outside of work and supported them in their endeavors. Joining Purolator has allowed me to grow and learn from others. And by supporting each other, we can achieve greatness together."
Beyond Purolator, Michael extends his support to the 2SLGBTQ+ community through volunteer work. He recognizes the challenges faced by marginalized individuals and emphasizes the importance of community involvement and allyship. By dedicating his time and energy, Michael seeks to make a positive impact, promoting inclusivity and education.
His journey toward acceptance and understanding began at a young age. Michael bravely participated in rallies and events to advocate for equal rights and challenge societal norms. Through his active engagement, he witnessed transformation and progress achieved over the years.
Now at 60 years old, Michael reflects on his life with immense gratitude. "Purolator has blessed me in countless ways, from providing same-sex benefits over two decades ago, to offering me plenty of opportunities for growth," shared Michael. "To be a better ally to the 2SLGBTQ+ community, I believe in volunteering and actively engaging with the community. It's about continuous learning, personal growth and educating others to help create safe spaces. I have seen the positive changes that come through advocacy, and I take pride in being a part of that journey. Purolator has given me the chance to make a difference, and for that, I am deeply grateful."
Michael's unwavering dedication to fostering a sense of belonging and celebrating diversity embodies Purolator's values. His commitment to his colleagues, the 2SLGBTQ+ community and personal growth serve as an inspiration to us all. We are grateful to have Michael on our Purolator team, and proud to celebrate his story.