Confidently shipping your packages to, from and within Canada for 60 years.
Delivering promises for over 60 years and counting
Purolator is a leading integrated freight, package and logistics provider – delivering packages to, from and within Canada. We provide businesses with uncharted Canadian reach and U.S. northbound expertise, continuously optimizing our supply chain solutions and cross-border operations.
Purolator is proud to have one of the most extensive networks in Canada, reaching some of the most remote locations. Our size allows us to help businesses truly deliver their promises and drive results, from corner to corner and coast to coast.
Purolator's operations

#1
Canadian courier for reach, distribution centres and fleet size1

#1
Trusted courier delivery service2

97%
Canada's largest operating courier fleet using 97% of our own assets3

20+ years
The most experience crossing the Canadian/U.S. border4

14,000+
Dedicated Purolator Inc. employees5

175+
Operations facilities5

3,900+
Courier vehicles5

300+
Purolator shipping centres and drop boxes5

1M+
Packages picked up and delivered daily6

30+
U.S. regional branches with consolidation capabilities7

1,600+
Authorized shipping agents5

30+
All-electric vehicles including e-bikes, low-speed EVs and 18ft EVs8

13,500+
Calls, live chats and emails answered each day5

1st
National courier to introduce fully electric vehicles to our fleet8

99.9%
Serving almost every Canadian postal code9
Purolator's locations in Canada and the U.S.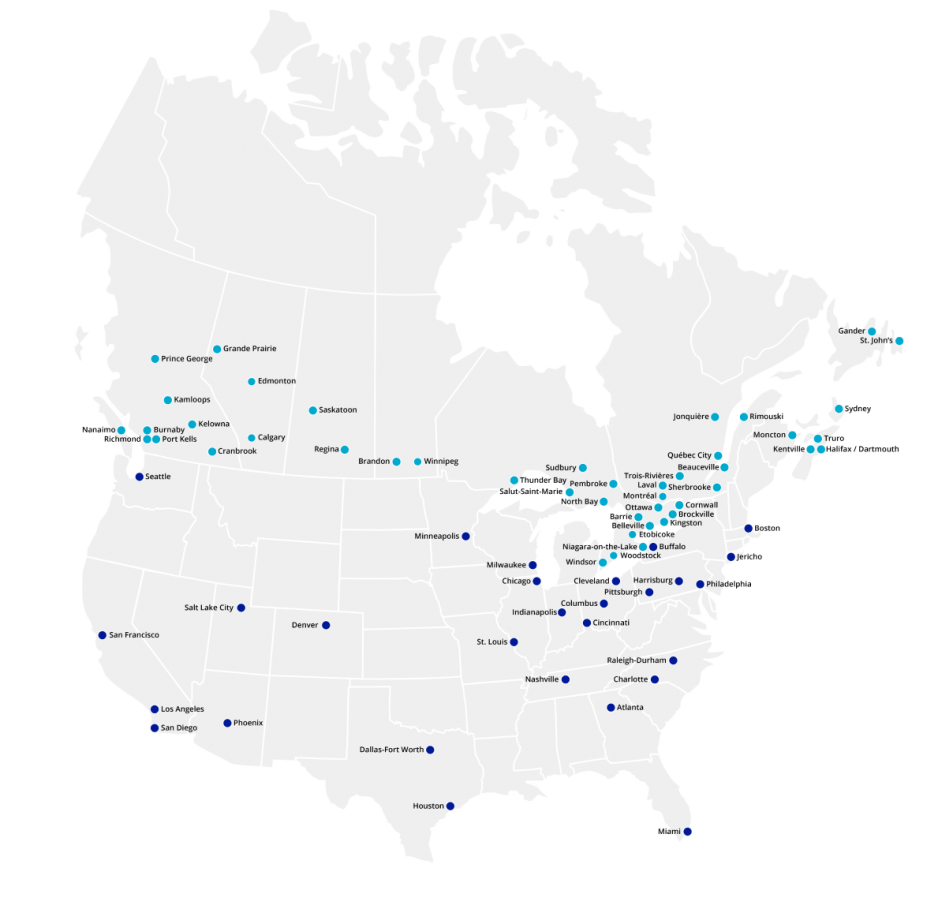 Join our exciting and evolving industry
Join our team as we strive to deliver the future. Learn about our current job postings and sign up to be the first to hear about new job vacancies.
Frequently asked questions
2727 Meadowpine Blvd., Mississauga, Ontario, Canada L5N 0E1
Purolator's revenue for 2021 was $2.6 billion.
Purolator is a Canadian courier that is owned by Canada Post (91%), Rainmaker Investments Ltd. (7%) and others (2%).
Purolator has over 13,000 employees.
Purolator is a leading Canadian courier providing logistic solutions to, from and within Canada. Purolator International is a U.S.-based subsidiary of Purolator that provides U.S. businesses with delivery services to Canada.
You can learn about our job vacancies and sign up to receive new job posting notifications at careers.purolator.com.
Our values and responsibilities
Learn about the steps we're taking to continuously improve our impact on the environment by downloading our Environmental Policy.
Learn the actions we're taking to empower and celebrate equality across our diverse workforce and across Canada. Visit our Diversity, Equality and Inclusion webpage.