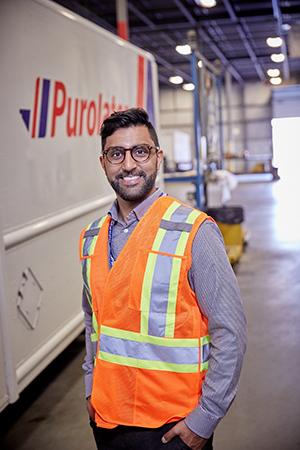 Dr. Shaan Chugh, Chief Medical Director for Purolator, leads the Cleveland Clinic team providing Purolator with both local and global healthcare expertise to support the company's delivery of next-generation physical and mental health, safety and wellness initiatives to its employees.
TORONTO, Sept. 16, 2020 – Purolator has partnered with global healthcare leader Cleveland Clinic to optimize the health and safety of its employees and bolster the company's health sector-based offerings. Through Cleveland Clinic's Medical Director program, Purolator will have access to the local expertise of Cleveland Clinic Canada as well as clinical expertise from Cleveland Clinic's worldwide enterprise system.
Cleveland Clinic Canada's Medical Director team will work closely with employees at all levels of Purolator to fuel the organization's delivery of its next-generation employee health, safety and wellness initiatives and benefits, enhance the company's health-sector service offering for its customers and manage enterprise health risk, including the ongoing business continuity plans for COVID-19.
"We have a bold vision of being our industry's healthiest and safest place to work," said John Ferguson, President and CEO, Purolator. "Through this new relationship with Cleveland Clinic, a leader in healthcare and innovation, Purolator will implement leading-edge health and safety initiatives, which will elevate the physical and mental health and safety of our people, and further support our overall objectives and ambitions."
Additionally, Purolator is dedicated to finding progressive and creative healthcare options for its customers. As one of the first in its industry to launch a Chief Medical Director role, Purolator is progressively utilizing the Medical Director program to help the organization research and develop healthcare solutions for its customers.
Through access to international thinking and innovations, the Medical Director program will enable Purolator employees to bring their best selves to work each day and continue to deliver the gold-standard of customer service that Canadians have come to know and trust.
 
Dr. Shaan Chugh, Purolator's Chief Corporate Medical Director from Cleveland Clinic Canada, speaks to employees regarding the use of personal protective equipment and sanitization practices to prevent the spread of COVID-19.
About Purolator
Purolator Inc. is Canada's leading integrated freight, package and logistics solutions provider. Celebrating over 60 years of delivering its customers' promises, Purolator continues to expand its reach and renowned service levels and reliability to more people, more businesses and more places across the country and around the world. Purolator is proud of its Canadian heritage and is focused on sustainably positioning itself for future growth and success. Purolator is also committed to contributing to the well-being of the communities it serves and where more than 12,000 of its employees live, work and play.
About Cleveland Clinic
Cleveland Clinic is a nonprofit multispecialty academic medical center that integrates clinical and hospital care with research and education. Located in Cleveland, Ohio, it was founded in 1921 by four renowned physicians with a vision of providing outstanding patient care based upon the principles of cooperation, compassion and innovation. Cleveland Clinic has pioneered many medical breakthroughs, including coronary artery bypass surgery and the first face transplant in the United States. U.S. News & World Report consistently names Cleveland Clinic as one of the nation's best hospitals in its annual "America's Best Hospitals" survey. Among Cleveland Clinic's 66,000 employees are more than 4,200 salaried physicians and researchers and 16,600 nurses, representing 140 medical specialties and subspecialties. Cleveland Clinic's health system includes a 165-acre main campus near downtown Cleveland, 11 regional hospitals in northeast Ohio, more than 180 northern Ohio outpatient locations – including 18 full-service family health centers and three health and wellness centers – and locations in southeast Florida; Las Vegas, Nev.; Toronto, Canada; Abu Dhabi, UAE; and London, England. In 2018, there were 7.9 million total outpatient visits, 238,000 hospital admissions and observations, and 220,000 surgical cases throughout Cleveland Clinic's health system. Patients came for treatment from every state and 185 countries. Visit us at clevelandclinic.ca. Follow us at twitter.com/CCforMedia and twitter.com/ClevelandClinic. News and resources available at newsroom.clevelandclinic.org
Media requiring further information, please contact:
Courtney Reistetter
Senior Manager, Corporate Communications
416 407-5424
[email protected]
Meegan Guest
Vice President, Communications and Strategy
Cleveland Clinic Canada
[email protected]