TORONTO, JUNE 30, 2020 – One year ago Purolator announced its plan to invest more than $1 billion in its five-year delivering the future growth and innovation strategy. During the past three months, the company has operated as an essential service and has been on the front lines of the dramatic change in Canada's supply chain, meeting the critical needs of businesses and Canadians as home deliveries rose 30 per cent alongside retail e-commerce sales that surged by up to 120 per cent . In response, Purolator is creating more than 1,100 jobs and fast-forwarding five strategic priorities that are growing in importance for businesses and consumers as they adapt to the realities of COVID-19.
"Everyone has experienced dramatic change over the past few months and we are accelerating our growth and innovation plans to help businesses recover, to help people and families adapt and stay safe and to kick-start the Canadian economy," said John Ferguson, President and CEO, Purolator. "Our service performance is solid, we are investing in urgent network capacity, speed and access, and I am incredibly proud of our 12,000 employees – soon to be more than 13,000 – who continue to provide heroic, essential and safe services during this extraordinary time."
What's next? Purolator accelerating delivering the future growth and innovation priorities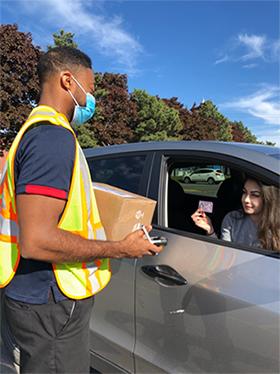 As the economy enters recovery, the company is focused on five priorities to serve the critical needs of businesses, consumers and communities, which include:
Continuing significant investments in health and safety and contactless deliveries to keep people and communities safe and connected
Increasing network capacity, speed and access to help businesses grow and benefit from emerging market opportunities
Enriching the digital experience of shippers and receivers
Expanding global supply chain capabilities for businesses shipping to and from Canada
Advancing social responsibility and sustainability across all areas of the business
Purolator creates 1,100+ new courier and sorter jobs
Purolator is creating more than 1,100 quality courier and sorter jobs as part of its strategic priority to add capacity to its network. The new jobs are located across Canada, and the company expects to hire another 1,000 employees in a few months to help satisfy peak season demand.
About Purolator
Purolator Inc. is a leading integrated freight, package and logistics solutions provider in Canada. Celebrating almost 60 years of delivering its customers' promises, Purolator continues to expand its reach and renowned service levels and reliability to more people, more businesses and more places across the country and around the world. Purolator is proud of its Canadian heritage and is focused on sustainably positioning itself for future growth and success. Purolator is also committed to contributing to the well-being of the communities it serves and where more than 12,000 of its employees live, work and play. For more information, visit purolator.com.
Media requiring further information, please contact:
Dave Bauer, Head of Corporate Communications, Purolator
647 354-5376
[email protected]