May 27, 2020 – The past two months have been transformational for all of us. It's felt like we've had to change so much in our work and personal lives to adapt. We're entering a new phase as businesses begin to re-open and all signs indicate it will be a cautiously optimistic one. At Purolator, we're actively engaged in Pandexit and there are a few things we've learned over the past few weeks that, we believe, can help you navigate through some of the uncertainty ahead.
Demand for e-commerce is here to stay
The demand for direct-to-home deliveries has surged. From mid-march until last week, our couriers drove almost two million kilometres. That's just like driving across Canada 241 times! We learned quickly and expanded our capabilities to meet these expectations: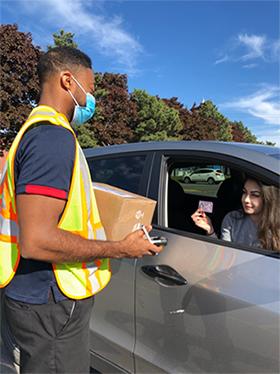 Our contactless curbside pick-up service makes retrieving packages safer and more convenient. extending 24/7 delivery times, accelerating "no signature required" contactless service, increasing Mobile Quick Stop curbside pickups and situating our Mobile Quick Stop trucks in densely populated areas to ensure packages arrive safely and with the velocity you require. In mid-June, we're launching a brand-new mobile experience called Purolator Your Way. By signing up, businesses will have the opportunity to offer their consumers more delivery options and choice, which they can control right from their mobile devices. This includes a virtual signature option for packages that require proof of delivery, as well as the ability for the customer to select a specific drop-off point at their home or delivery address. People and families have been telling us this is something that would make their lives a lot easier, particularly now.
Capacity and speed will support the return of business-to-business volumes
With the opening of economies comes the return of B2B volumes. While it has been an uncertain time for every business, we made the important decision to continue our strategic investments to add capacity – and pace – to our network. Construction of our National Super Hub has started, we're opening a new facility in Red Deer, Alberta this week, and we have begun hiring more than 1,000 couriers and sorters across the country. We have many more projects underway to add capacity and speed to our network ecosystem, while making sure the well-being of our people and the safety of customers remain our driving purpose.
We're listening: We're here for you
We realize our customers – you – are experiencing unimaginable and unpredictable changes to your businesses. Whether you're B2B or B2C, enterprise corporations or small businesses, we understand. We're going through it, right alongside you. We're here for you. Over the past couple of months, I've reached out personally to many of you to connect, listen and create new solutions for your needs. In fact, after hearing from the small- and medium-sized business community, we launched a resource centre to provide them with the information they need to adapt, like growing e-commerce platforms and managing the mental health of their employees.
Most of all, we'll keep pivoting to support you and your business safely – with greater innovation, speed and visibility. At the outset of this pandemic, we said we're in this together. Now, almost three months in, it's more important than ever to deliver on that promise.
John Ferguson
President and CEO
Purolator